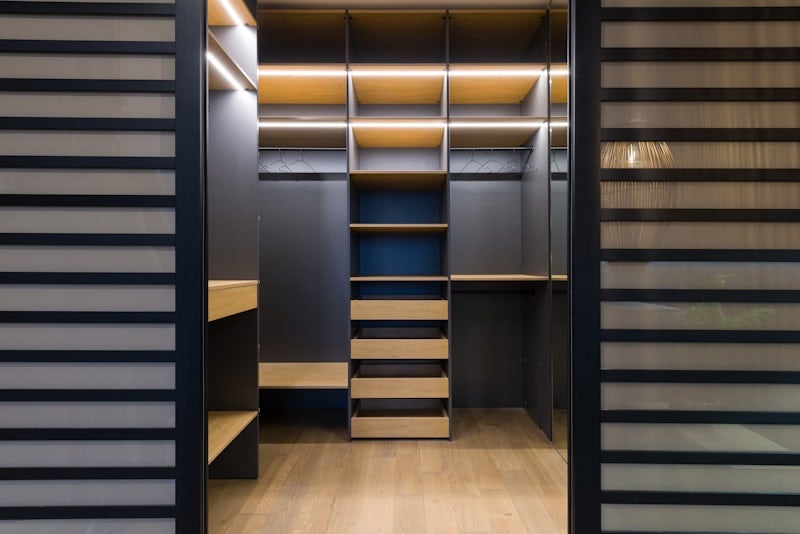 Built-in wardrobes are a pretty good alternative when you simply don't have the space for a walk-in wardrobe but still want to have that special storage space you've been dreaming of. This way, you will use all of the space available to you while maximizing livable space in the room. These are two of the most popular options today. That's because it offers the people that use them a lot of advantages and also great solutions for storage.
Why Did Built-In Wardrobes Become So Popular?
Whether in mall apartments or grand estate homes, people will always be in need of storage space for their clothes and the other things that they wear. Closets were once the state-of-the-art solution for this issue, but as time marched on and people became more and more involved with their attire, they needed to come up with newer and better alternatives. Regular closest, although still great for some, tend to take up a lot of space. They require constant cleaning and upkeep, and can sometimes become so old and damaged that they cannot be used anymore for what they were bought. That's why so many people are looking into solving this problem and replacing the way they store their clothes.
Built-in wardrobes are a relatively recent invention compared with their regular counterparts. They have gained popularity among younger users mainly because they are a space-saving solution that incorporates all of the advantages a regular wardrobe has and also brings many more. They can be fitted and customized to fit into any room or space available, and they have almost endless possibilities of how to be used and partitioned. This can come in quite handy when dealing with a very large number of clothes or with the need for easy access to them. Some people that use them are also very happy that they can be just what they were looking for in order to have that special piece of furniture in their homes.
Built-in wardrobes also became popular because they are easily hidden away. Regular wardrobes are bulky and sometimes tend to stand out in a room. They take up a lot of space and aren't always the prettiest thing to look at when entering a space. So some people may have the need to hide the storage solution they use for organizing their clothes. That's why wardrobes that are built-in are the best solution for this problem. They can be very easily covered up or masked with anything from sliding doors made to look like the walls in the room to full glass doors or even more artistic solutions.
Three Major Advantages of Having Built-In Wardrobes
There are a lot of advantages to having built-in wardrobes. One of these advantages is that they can be perfectly customized to cover up any space you might have and don't know what exactly to do with it. In some homes, people may discover that they have alcoves, niches, or nooks that they might not know what to do with. Some will try to repurpose them by creating various spaces. Others may go another way and use them to create more storage space for their clothes or any other stuff they might want to tuck away safely. This way, you will never have unused space in your home, and you will have enough solutions to put away those winter clothes until the first snow falls without constantly having to ruffle around them in your old wardrobe.
Another great advantage of a built-in wardrobe is that it can even provide some structural reinforcement to the space it occupies. When creating such a wardrobe, measurements are usually taken so that it fits perfectly in the space it will be placed in. So perfectly that it can even be used as a supporting element in some cases. Granted, a wardrobe is in no way a load-bearing construction piece. But, in some cases, it can be used to support the walls it is fixed against. Because it is usually bolted to them in order to prevent collapsing in case of natural disasters or any type of damage, it can also act as a sort of scaffolding that holds the walls in place. And, because of the strong materials modern wardrobes are made out of, they can even withstand sustained mechanical stress and damage.
Also having a built-in wardrobe is also great because it can free up a lot of space in the middle of a room. The idea of having wardrobes that are built into walls and various spaces came about when people wanted to have more room for other pieces of furniture in a space or simply wanted more open space for them. Also, many of these wardrobes come with sliding doors. That means that this way, they can save up even more space. This solution is perfect for smaller homes or apartments, where every square inch has to be put to good use.
Can I Customize Them?
Absolutely. A lot of people, when they decide to put a wardrobe in a space they might have along their walls, will start by looking at the options for making it just the way they want it. From the materials used and all the way to different accessories that one might want, you can change anything you want to such a wardrobe. And the best thing is that the only visible part is the front of it.
How to Design a Walk-In Wardrobe?
Many people may think that designing a walk-in wardrobe is nothing more than simply putting a lot of shelves and closets in the same room and then filling them up with clothes, shoes, and other accessories. But actually, there is way more to it than that. For instance, when designing such a space, one must first start with what kind of storage one needs. That means that, according to the clothes and other things you wear that you own, you will be able to determine if you need more rods or more shelves. You might even want to put in a sort of display wall, for your most prized pieces of clothing or shoes. A lot of people will have special drawers put in for their jewelry and other accessories.
The next thing to think about when designing a walk-in wardrobe is what you will actually use it for. This will determine what kind of partitioning you will use as well as what kind of materials and many other factors might not be clear before this. Some people may simply want to convert one of the rooms that they don't use into a space where they can store their clothes and other things. But others may want to create dressing rooms. That means that they will need a lot more elements than simple closets and chests of drawers. Mirrors, stepping stools, and other items can be incorporated into the design. Some may even choose to have their ironing done in this room. This can save a lot of time with carrying the clothes from where they are washed and ironed to where they will be stored until use.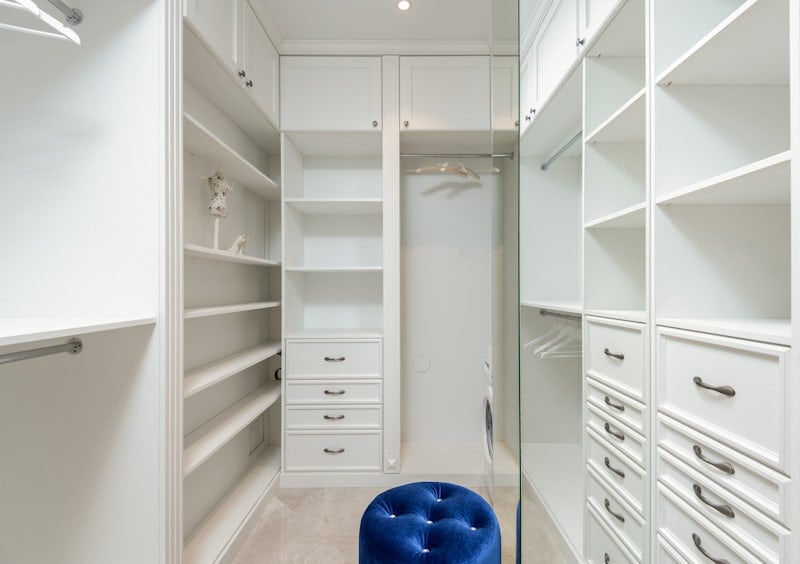 What Should a Walk-In Wardrobe Have as Extra Options?
Many prefer their walk-in wardrobe to be just for storage and dressing purposes. But others might want a little bit more from this space. That's why they will usually install many optional features that they feel will make this room even more special. For instance, special lighting can be added to the wardrobe. Although many wardrobes will have a light source of some kind, owners will sometimes install others just so that they can create an ambiance in this room. Some will place lights inside their lockers as well so that they can search for their clothes easier. Others may go even further ad have special lighting fixtures installed in the area where they usually get dressed in. This way, they'll be able to see any creases that they might have missed while ironing or other issues that the clothes may have.
Another very popular option that people will want in their walk-in wardrobes is mechanized displays. Popular since the early '90s, these displays are usually perfect for people that need to be able to see more of their options at a time. These were usually used for smaller accessories, such as watches and ties, but quickly evolved to be used for other pieces of an outfit. For example, suits, dresses, shoes, and many more can be arranged on a mechanized display and "paraded" in front of you each morning, helping you with your decision.
Also, when having a walk-in wardrobe, people may want to have a place where they can get ready before getting dressed. Ladies especially will have make-up tables installed in these wardrobes so that they can get dressed and made up at the same time. Vanity tables with mirrors are always a fan favorite to have installed in these wardrobes.
What Materials Should I Use to Create One?
You can use almost any material you like; if you are going for a classic, warmer look, you might want to use wood. In this case, cedar wood and mahogany are preferred because of their rich colors and numerous advantages when used in such projects. You can also go modern and use a lot of glass and steel. In this case, you might need to look into scratch-resistant glass and stainless steel in order to avoid accidents or damage.