Since childhood, we have been using one or the other transport mediums for traveling between places be it Intracity, intercity, Intrastate, interstate, or the foreign land. Not to mention we also experienced various processes just to obtain a valid ticket to travel.  It used to be on counters of the service providers or on the way i.e. during the journey or a pre-purchase. However, Over the past few years, the entire mechanism of how the purchase and sales of Travel tickets are being done has taken a completely different shape and route. With the advancement of the Internet and Digital devices, it has become a piece of cake to book tickets for any sort of travel requirement.
It is worth mentioning that, when it comes to human behaviour changes, there are change drivers e.g. First movers and Pioneers in the Industry who setup examples, and motivates other players in the industry to follow the trail. And in OTA space for B2C customers, Makemytrip, Yatra, Cleartrip were the early adopters of technology who deliver value to the masses with their intial launch of B2C Travel portals.
In the Airline space, Air Deccan took the initiative and launched the concept of the low-cost carrier. Whether the first movers survive or not, make profits or not, but they show the path. We can see similar lines for Online shopping where Snapdeal and Flipkart sowed the seeds. We can find many examples of such torch bearers in amlost every industry.
When it comes to Travel, content aggregators have made it possible to sell the travel content digitally using technology solutions and platforms to integrate the end supplier and establish a smooth supply chain e.g. REDBUS, TekTravel (TBO), Amadeus, Sabre, and Travelport (GDS Systems), etc.
Looking at how the overall Travel Industry is moving, Digital Transformation is most essential for all the Travel Business be it big or small including but not limited to Web and Mobile Booking Engine, Process Automation, and Digital marketing.
It has become a necessity sort of looking at the future. We noticed that in disruptions due to COVID19, any investments on digital transformation paid off well. In a situation when the entire physical workforce was absent, those Travel Business who had setup Process Automation tools were better prepared to fight the epidemic.
As far our expertise and understanding go, with vast exposure and experience of working in Travel domain and having integrated 100+ XML API integration of various services in different application requirements, we have developed ability to understand technical implementation for travel business faster and we work with Travel Business, Travel Management Companies, OTAs, Tour Operators to offer them readymade tools for the process automation to market their travel products and services.
Meanwhile, checkout the opportunities during COVID pandemic and how we get you succeed via our prebuilt On-demand apps.
How we differ in the Travel Portal Development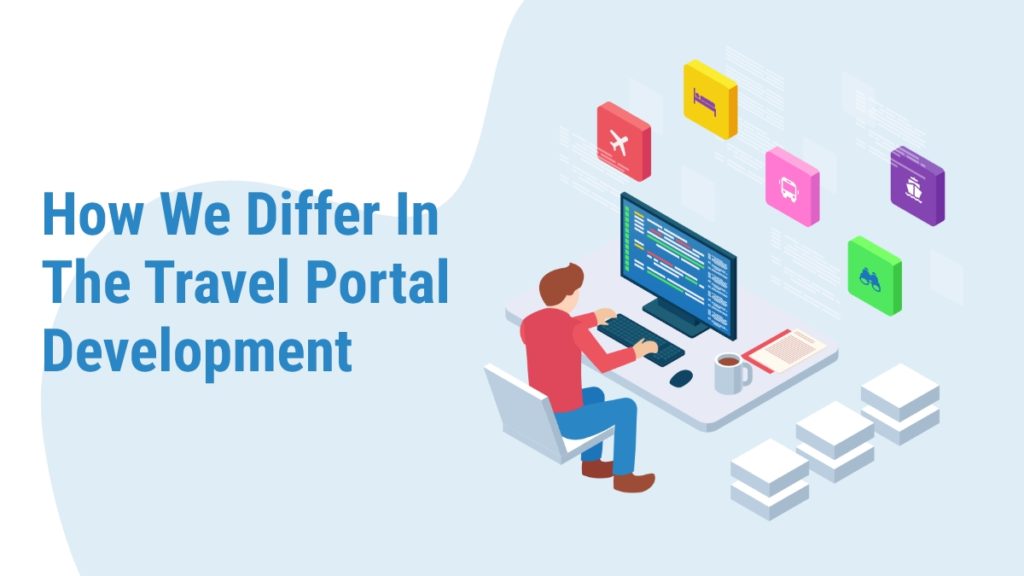 Travel Portal developed by us offers a complete solution that is developed keeping in mind the growing business requirements of the travel business and can scale as per the traffic generated. As a technology partner, we are the one-stop-shop for any technology requirement, be it a white-labeled solution or travel website development and travel booking software APIs.
Being a specialized Travel Technology Company, we help develop B2B Travel Portal, B2C Travel Portals, B2B2C Travel Portals with Distributor Module, Franchise Module, White Labelled Solution, Corporate oriented travel portals, Booking Engine Platforms, Booking System, Travel Portal Developments and also custom application development services.
Do you have a similar requirement?
Travel Being one of our core services, we guide businesses in making right decisions while fulfilling development & Integration needs in most efficient & cost effective way.
We understand the demand and complexity of Travel Business
Coming to the understanding and our take on this subject, As part of the process of Developing Portal, the first and most important is the identification of the source of Travel Content i.e. inventory and availability of the flight's hotels, cars, bus, rail, packages, etc. The content sources can be GDS (CRS), Airlines, Consolidators, Aggregators, LCC Carriers, etc. at HashStudioz, we integrate multiple APIs to the application, Amadeus GDS API, Sabre GDS API, Galileo GDS API, Travelport UAPI, Abacus API, Worldspan API, Galileo GWS API, Mystifly, TekTravel API, Travelfusion, IATI API for Flights API Integration.
Similar lines for hotel content XMLs including GTA, agoda.com, Travco, Hotelbeds, TBO Hotels, Expedia, HotelsPro, roomsXML (Stuba), DOTW, YR Bookings, and many more. For all services, it is critical to identify a source where the content will come from. For example package content might be self-generated but for the agency, we have to provide a tool to upload and manage the content, which helps in generating leads.
To further breakup, We ensure these points for Travel Portal Development
Identifying the content source to integrate with the portal i.e. API for Hotel, Flights, Car, Bus, Mobile Recharges, Money Transfer, etc.
Integrate APIs for Payment Gateway, SMS, and Email.
Provide support for all the Business Model – B2B or B2B or B2B2C or corporate SBT
Let you setup Business rules for each of the Model
Ensure Backoffice User Management
Allow Ticketing Rules Settings
Provide Mid office and Back office Tools for managing the bookings, modifications, cancellations, refunds, payment reconciliation, reports, etc.
Provide additional feature set as per requirement
Multiple API source and selective content
Hold and Ticket issuance rules
Import PNR functionality
Emulate the user at the backend
Generate Issue on behalf of partner/agent/affiliate
B2C customer promotional email/SMS
These are some of the bare minimum requirements to consider, depending on the Business model selected.
Various Engagement Models:
Be it Onsite or Offshore engagement,  Pay as you GO or Perpetual License or Custom On-Demand applications development delivered with source code and Intellectual property ownership.
What We Do in Travel Segment?
Travel Portal Development Services
Tour Operator Application Development Services
Dynamic Packages System & Packages and Tour Management Software
JSON, XML and Web Services API Integration
B2B Booking Engine &  B2C Booking Engine
White Label Solution
GDS Integration
About HashStudioz Travel Domain Expertise:
HashStudioz is a leading technology services company focused on the Travel Industry and offers Travel Portal Development Services for Travel Business and Travel Management Companies. We keep in mind the growing business requirements of travel management companies, destination management companies, travel aggregators, B2B B2C travel agencies, tour operators, and home-based travel agents. We are the one-stop-shop for white-labeled solutions for travel website development and travel booking software APIs.
LET'S CONNECT!