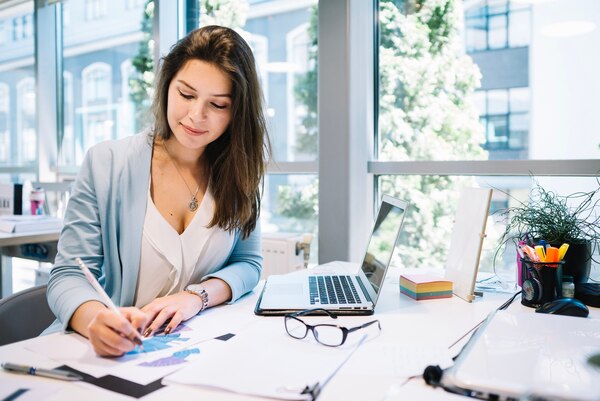 All business owners want to develop their businesses, attract more clients, develop excellent products and services, invest in research and development, marketing campaigns, and keep finances under control. However, these tasks are impossible to achieve without proper Fort Worth bookkeeping. Maintaining the books takes plenty of time and dedication; soon enough, you realize you don't have enough time for other tasks. A good question to ask is whether your business can benefit from a bookkeeper who manages the tasks within your company.
If you own a small business, you might think that you can manage everything in-house. With limited resources, perhaps you can delegate the tasks to someone within the business or even to yourself. This is not an option since it draws penalties and fines. Once your business grows, it becomes harder to handle bookkeeping alone, and it is better to hire a professional so you can focus on developing the business and managing all other operations. Of course, there are many other excellent reasons to hire one.
What Bookkeeping Services Imply
You can expect plenty from bookkeeping services in Fort Worth, TX, and it all depends on the professionals you hire, how specialized they are, if they cater to small and large businesses, what their portfolio is, years of experience in the field, and more. To have a general idea, these professionals can organize financial processes and prepare statements, look after the cash flow, keep records and travel expenses, and prepare documentation so business owners can make forecasts and investments.
If the company requires, bookkeepers can manage payroll. This is a responsibility that can be taken off the manager's shoulders. Bookkeepers can do this effortlessly because it takes many resources to track employees, vacation days, and bonuses. They have software and applications to assist in the process. This is a significant advantage; firms have dedicated tools to make bookkeeping easier to manage for multiple clients at once. Therefore, keeping track of expenses and profits makes it easier to see where money is going.
It is time to hire a bookkeeper if you have issues updating books. In this situation, your financial status is not actual and does not reflect reality. Measuring your company's health becomes difficult, and it will be harder to understand the cash flow. At some point, you will not know if you can expand the business or what is your actual income. The worst part comes during the tax season, which is already stressful. It will be even more challenging to prepare for taxes. By hiring a professional firm, you receive financial statements regularly.
When It Is Time to Worry about Bookkeeping
You struggle daily to bring new customers and to keep them satisfied. Regardless of how hard you work, the revenue is not increasing if you are not making more in the bottom line. Increasing profit margins is a necessity if the bottom line is not rising but the revenue is. A specialist can provide tax-ready statements that show spending and where you can afford to cut costs to make the company more profitable.
Do you have a clear vision of the money coming from clients? Do you have enough funds when it is time to pay suppliers and contractors? To obtain accurate answers, you need cash flow statements. These reveal how much money you need to collect from clients and how much you need to pay others. Every month, you can obtain an updated cash flow. This is part of Fort Worth bookkeeping.
DIY bookkeeping
It is often encountered that business owners prefer to manage bookkeeping on their own. On top of other responsibilities, this leads to burnout and overworking. How much do you spend on these tasks weekly? If you calculate the value of your time, and it seems that you spend too much on tasks, it is time to reduce some of them. You can choose what bookkeeping services to obtain from professionals; thus, you pay only for the ones you use.
Specialists in Fort Worth, TX, can provide diverse services, and their duties depend on their level of expertise and the clients catered to. Based on your business, how developed it is, how many clients you have, employees, you can find someone right for the job. They have software to keep track of transactions, sales, and purchases, and they can maintain the cash flow.
Handling accounts
At a certain level, the bookkeeper in Fort Worth, TX, handles account payables and receivables. Specialists can make payments on your behalf and send invoices to clients so that you receive the money on time. Among the responsibilities of such a professional, you can rest assured that following up late payments is among them. If this is a point of interest, discuss it with the firm and see what they have to offer.
Other firms perform HR tasks and payroll. If you want someone professional to deal with this topic, put it on the list and find someone capable. In fact, it is a good idea to make a list of the responsibilities and services you require for your business, what you find useful, and what helps you increase the business. Outsourcing bookkeeping is a viable possibility when you feel overloaded or when you don't want to hire someone dedicated.
Finding the Right Providers
It is true that it is not easy to trust someone with your books, financial statements, taxes, and other confidential information. This is why it is crucial to research the market and hire someone accredited and highly specialized with positive reviews. Your business should be in good hands, and your responsibility is to protect and help it grow. What is also the case is that you can't handle everything alone since you might not have deep knowledge of all topics.
Bookkeepers know everything about the legislation during the tax season and are more than worthy to offer advice on financial aspects. With the right team by your side, you can achieve more significant results and always know your business's health. Assess the costs and find out how much you can afford to pay for the services.