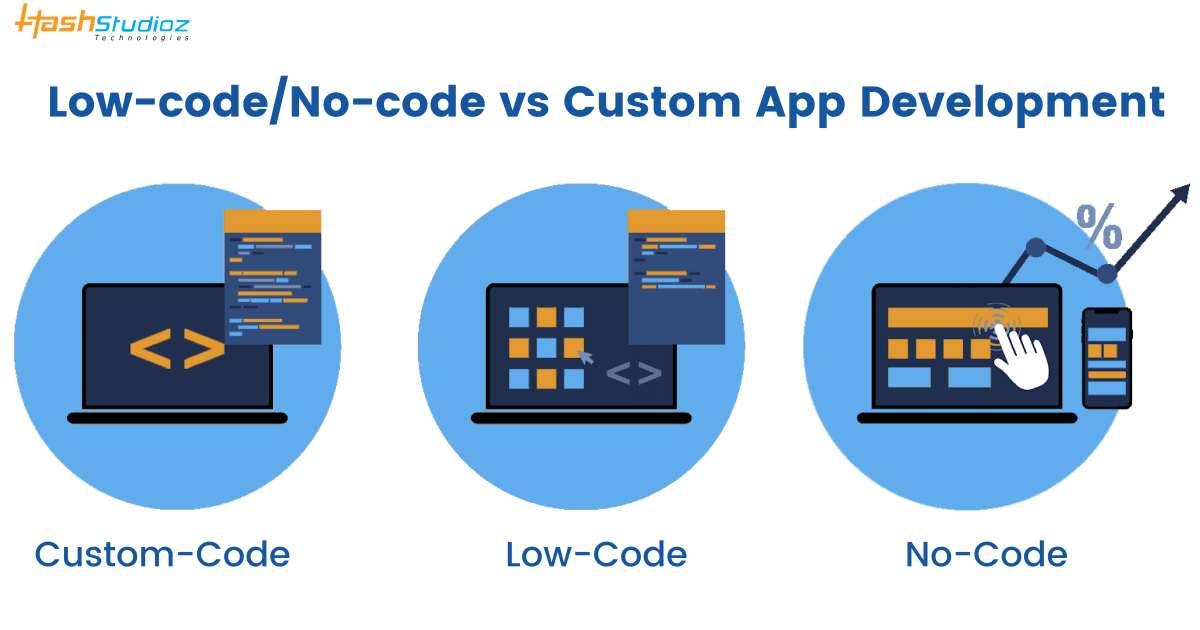 The world is about digitization! Nowadays businesses of all sizes are launching their applications to try and expand their reach online. As we know, developing a digital enterprise in the form of web and mobile applications is a very difficult task. You have to brainstorm many things at once. One of the key ways to decide which coding method to choose is? Low-code/no-code vs custom code development?
In our previous blog, we discussed what is low-code/no-code development, its advantages, and its usages. Here are a bunch of reasons why it's smart to favour custom app development vs low-code/no-code app development. But first, let us find out what is meant by low-code and custom app development.
These platforms are opposite from each other. Low Code/ No Code is a way to develop applications without coding expertise. Whereas, the traditional approach i.e. custom coding involves a tech-minded who with their expertise and experience steers the software development ship effortlessly.
What is Low-Code Development?
With Low-code developers can build applications via a drag-and-drop visual interface. The modules are pre-maid and automatically talk to one another. No-code/low-code platforms refer to the software used to develop business applications without writing any code or requiring any programming experience whatsoever.
In fact, low-code/no-code platforms are a part of the first generation of fast tools for developing mobile applications. Businesses of all sizes and sectors became aware of the importance of going through a digital transformation as a result of the rapid advancement of technology. They need software and/or apps that fulfilled client expectations if they were to be relevant and competitive in the digital environment.
Low-code/no-code platforms are a great solution as they offer multiple advantages such as accessibility to the masses, speed, and affordability. These platforms provide a strong visual software interface that enables users to construct applications with simple-to-use features like –
Drag and drop modules
Spreadsheet imports
Picklist selection boxes
In this case, users can create entire apps using templates that integrate common business logic and procedures by simply dragging and dropping pre-built content onto a graphical user interface.
What is Custom App Development?
Custom application development refers to the creation of software applications to fulfil specific business needs for a group of users in mind. The custom apps are personalized applications to address the specific needs of users to more conventional and standard custom software applications used by most people. Custom software is mostly developed to fill the gap with features absent in other available off-the-shelf versions.
When someone wants to create a special app product concept OR start their own app business, they must invest in custom app development. Low-code app platforms should never be used in such circumstances.
Why Choose Custom App Development Over Low-Code App Development?
A low-code platform allows inexperienced users to make key decisions, which is risky. Users need to be informed of the difficulties and risks involved with the platforms. However, when developing a custom application, a custom app developer interacts with the programme with a sufficient understanding of what they are doing. When challenges occur, they are resolved fast as the developer is only a call away or on the business premises.
Because of its security, custom app development is ideal for companies that manage sensitive data and information. While low-code development is not allowed, it is possible to combine your system security with custom apps.
With low-code applications, your organization may not achieve the functionality it wants due to restricted customization options. Flow options and user interface (UI) are very limited, making low-code platforms unsuitable, especially where expectations are high, such as user interface and user experience (UX). Therefore, custom application development is the better choice when you need a unique and high-quality application that suits your business needs on a low-code platform.
Low-Code/No-Code vs Traditional Development
While low-code/no-code application development platforms enable developers, citizen developers, and business users to quickly develop apps using drag-and-drop interfaces, custom app development methodology utilizes conventional methods for developers to create robust apps. Here are some critical differences between low-code/no-code and traditional coding.
Cost of Development
The cost of custom coding is comparatively more with less code or no code. But, it is worth every penny spent. This coding approach is done under the supervision of an experienced mind. Thus, it is expensive, as it depends on the hourly fee and expertise of a company or dedicated developer. An automated software coding cannot solve complex coding problems or change some functionalities according to the needs of the user. Hence, the price quoted by an IT company is justified in comparison to the no-code strategy by the set of services they provide.
A person can understand the user experience and in-app navigation because of the personal experience. Automated software may optimize coding but may never understand the individual human difficulties of using an application.
Development functionality
A customizable app is an ideal approach for app development as it helps in integrating complex functionality. An app requires hosting services which can only be done by professional developers and programmers. If you feel that you need high-level functionality, then you need to hire an expert developer team.
The software cannot replace complex development problems, so if you are planning to build an app with fewer specifications and features then you should look for a no-code app. This is a very budget-friendly way to build an app. You need to play around with the drag and drop feature, thus, it does not provide any customization options.
Skill Requirement
Custom development applications require a variety of tools, skills, and multi-functionality knowledge that typically helps developers build a high-complexity application. To run an app successfully, developers must have sophisticated technical skills.
On the other hand, the low code no code approach is limited in terms of equipment and capabilities. Such a platform usually comes with a modest collection of tools that can help you develop a wide variety of apps quickly. It is quite handy for non-technical minds who don't have a strong understanding of the tech world but are still willing to develop an app themselves.
App Quality
You don't have to worry about the quality of the app while creating a codeless app as it works smoothly and creates no bugs and is hassle-free. The no-code application you create is a pre-built template. There are no test phases. It is deployed immediately after the app is created.
It creates human errors (which is natural) when building an app through custom development. But, they are resolved in real-time with testing procedures. A professional quality assurance tester cross-checks each functionality beforehand.
App Maintenance
Maintenance is a major challenge with custom coding as it needs to be updated or modified as and when required. For that, you need a specialized in-house developer. Low code platforms manage updates regularly, as it facilitates automation. Maintenance falls under the platform itself as the hosting company manages all the storage, file, foundation and upgrades.
Right and Security
One of the most obvious benefits of traditional software development techniques is that you have complete control over every part of the system you are building. You don't have to rely much on third-party solutions with bespoke coding. Even if you use third-party frameworks or libraries, the result is your creation that you can patent and sell as a private solution.
Although low-code solutions allow less freedom, you can still build fully functioning applications using the provided technology and preset modules. The source code of the complete product is retrieved and easily transferred to another hosting or platform, depending on the supplier.
Low-Code or Custom-Code? What's Good For Your Business?
A low-code platform enables new users to make important decisions. Users should be aware of the difficulties and risks that come with the platform. But custom app development enables custom app developers to interact with custom apps without knowing enough about what they are doing. When difficulties arise, they are resolved quickly because the developer is only a call away or close enough.
Custom app development is ideal for businesses that deal with sensitive data because of its security. Unlike low-code platforms, here, it is possible to sync your system security with custom apps.